Promoting corticospinal plasticity
Ethier et al. Curr Opin Neurobiol. 2015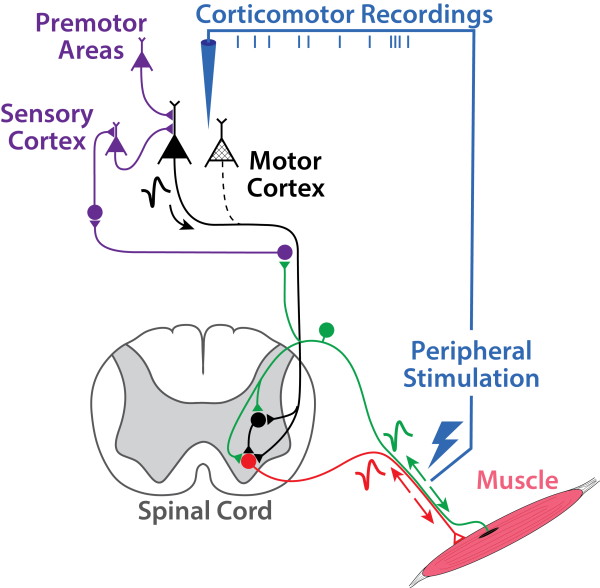 We are investigating the rules by which the association of activity in two interconnected structures can be manipulated to drive structrual plasticity. We use a neuroprosthetic approach to create a bridge between the brain and the muscles. This artificial association between cortical and peripheral neurons allows us to drive activity-dependent plasticity. Our goal is to better understand the rules and mechanisms of associative plasticity, in order to develop an effecive therapeutic approach.

Peripheral optogenetic stimulation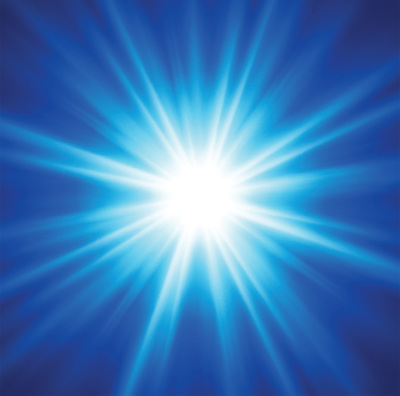 Our goal is to develop a neuroprosthesis to control associative neuroplasticity after cortical infarct, and promote a beneficial neural reorganization leading to motor recovery. This system is developed in rat models of stroke, and we will be evaluting its potential to accelerate and improve the motor recovery of skilled forelimb function.
Guiding neuroplasticity after brain lesion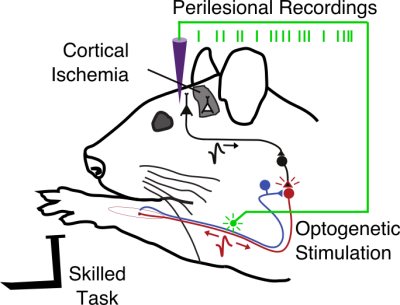 We are pursuing the development of an optogenetic interface to enhance peripheral nerve stimulation. This approach could greatly enhance the functional performance of peripheral stimulation, because it has the potential to activate motor fibers in their natural recruitment order, and thus increase force resolution and minimize muscle fatigue.